Statistics
Source of Wealth:

NFL

Age:

48

Birth Place:

Los Angeles, California, United States

Weight:

217 lb (98 kg)

Marital Status:

Married (Stacy Brunell)

Full Name:

Mark Allen Brunell

Nationality:

American
Date of Birth:

September 17, 1970

Occupation:

Former NFL Player, Professional Football Coach

Education:

St. Joseph High School Knights, University of Washington

Children:

4 (Caitlin, Jacob, Joseph and Luke)
About Mark Allen Brunell
After playing college football at the University of Washington, Mark Brunell was selected in the 5th round of the 1993 National Football League (NFL) Draft by the Green Bay Packers. Later on, Brunell also played as a quarterback for the Jacksonville Jaguars, New York Jets, New Orleans Saints, and the Washington Redskins.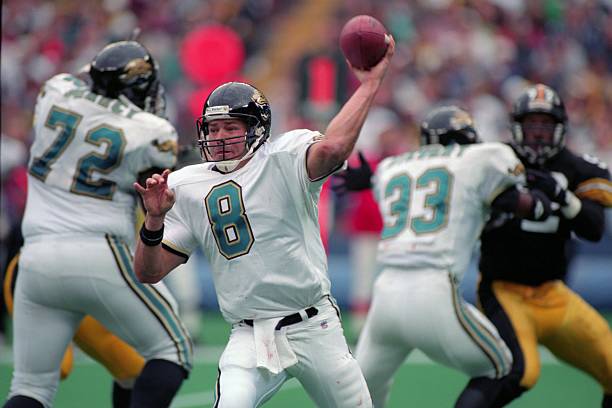 The Florida Times-Union has reported that Brunell is now ready to take his retirement from the NFL but just recently, the footballer expressed his intention to play for another season should there be any opportunity.
Mark Brunell is reported to be worth $400 thousand, after declaring a Chapter 11 bankruptcy in June 2010.
Earnings & Financial Data
?
The below financial data is gathered and compiled by TheRichest analysts team to give you a better understanding of Mark Brunell Net Worth by breaking down the most relevant financial events such as yearly salaries, contracts, earn outs, endorsements, stock ownership and much more.
Choose Year
Earnings 2011
Earnings 2010
Earnings 2009
Earnings 2008
Earnings 2004
Earnings 2011
Sale of Asset
Nov. 2011
Sale of Mark Brunell's home in Jacksonville
$9,500,000
Asset
Nov. 2011
Current value of Mark Brunell's assets
$5,500,000
Salary
Jun. 2011
Base salary with the New York Jets for the year 2011
$575,000
Contract
Jun. 2011
A one-year contract with the New York Jets
$575,000
Salary
Jan. 2011
Base salary with the New York Jets for the year 2011
$1,250,000
Earnings 2010
Salary
Jun. 2010
Monthly income as the president of Mark Brunell Enterprises, which operates football camps
$5,000
Contract
Jan. 2010
A two-year contract with the New York Jets
$2,850,000
Salary
Jan. 2010
Base salary with the New York Jets for the year 2010
$1,000,000
Earnings 2009
Earning Turned Donation
Jun. 2009
Donation to the Southpoint Community Church
$155,000
Earning Turned Donation
Jun. 2009
Donation for Mark Brunell's parents' mortgage payments in Colorado, gifts to Providence School and the National Fatherhood Iniative, and contributions to college funds for his niece and nephew
$50,000
Salary
Jan. 2009
Base salary with the New Orleans Saints for the year 2009
$1,100,000
Earnings 2008
Contract
Jan. 2008
A two-year contract with the New Orleans Saints
$2,600,000
Salary
Jan. 2008
Base salary with the New Orleans Saints for the year 2008
$1,000,000
Earnings 2004
Contract
Jan. 2004
A seven-year contract with the Washington Redskins
$43,000,000
Show all earnings