Statistics
Source of Wealth:

NBA

Age:

38

Birth Place:

Miami, Florida, United States

Weight:

235 lbs (107 kg)

Marital Status:

Married (Faith Rein)

Full Name:

Udonis Johneal Haslem

Nationality:

American
Date of Birth:

June 9, 1980

Ethnicity:

African American and Puerto Rican

Occupation:

Retired Professional Basketball Player

Education:

University of Florida

Children:

3 (Kedonis, Josiah and Elijah)
About Udonis Johneal Haslem
After a year of playing professional basketball in France, Udonis Haslem became an undrafted agent for the Miami Heat in 2003. 2010 was a critical year for Udonis Haslem when Miami Heat acquired Dwayne Wade, Chris Bosh, and Lebron. There were speculations whether Haslem would be staying with the team or he'll sign somewhere else. In July of the same year, he re-signed with the Miami Heat. If he signed with Denver Nuggets or Dallas Mavericks, Halem would have earned around $10 million.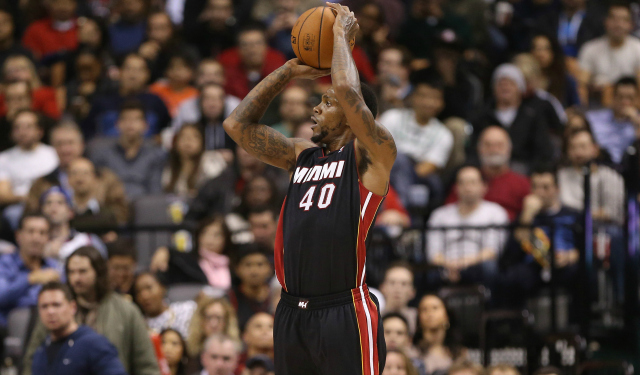 With an annual salary of $2.38 million, Udonis Haslem is estimated to be worth $20 million.
Earnings & Financial Data
?
The below financial data is gathered and compiled by TheRichest analysts team to give you a better understanding of Udonis Haslem Net Worth by breaking down the most relevant financial events such as yearly salaries, contracts, earn outs, endorsements, stock ownership and much more.
Choose Year
Earnings 2018
Earnings 2017
Earnings 2016
Earnings 2015
Earnings 2014
Earnings 2013
Earnings 2012
Earnings 2011
Earnings 2010
Earnings 2009
Earnings 2008
Earnings 2007
Earnings 2006
Earnings 2005
Earnings 2004
Earnings 2003
Earnings 2018
Salary
Jan. 2018
Base salary with the Miami Heat for the year 2018
$2,390,000
Earnings 2017
Contract
Jan. 2017
A one-year contract with the Miami Heat
$2,330,000
Earnings 2016
Salary
Jan. 2016
Base salary with the Miami Heat for the year 2016
$4,000,000
Contract
Jan. 2016
A one-year contract with the Miami Heat
$4,000,000
Earnings 2015
Asset
Jul. 2015
Purchase value of Udonis Haslem's pad in Miami Gardens for his stepmother Barbara Wooten
$326,000
Salary
Jan. 2015
Base salary with the Miami Heat for the year 2015
$2,850,000
Earnings 2014
Salary
Jan. 2014
Base salary with the Miami Heat for the year 2014
$2,730,000
Contract
Jan. 2014
A two-year contract with the Miami Heat
$5,590,000
Earnings 2013
Salary
Jan. 2013
Base salary with the Miami Heat for the year 2013
$4,340,000
Earnings 2012
Salary
Jan. 2012
Base salary with the Miami Heat for the year 2012
$4,060,000
Earnings 2011
Salary
Jan. 2011
Base salary with the Miami Heat for the year 2011
$3,040,000
Earnings 2010
Salary
Jan. 2010
Base salary with the Miami Heat for the year 2010
$3,500,000
Contract
Jan. 2010
A five-year contract with the Miami Heat
$20,300,000
Earnings 2009
Salary
Jan. 2009
Base salary with the Miami Heat for the year 2009
$7,100,000
Earnings 2008
Salary
Jan. 2008
Base salary with the Miami Heat for the year 2008
$6,580,000
Earnings 2007
Salary
Jan. 2007
Base salary with the Miami Heat for the year 2007
$6,050,000
Earnings 2006
Salary
Jan. 2006
Base salary with the Miami Heat for the year 2006
$5,530,000
Earnings 2005
Contract
Jan. 2005
A five-year contract with the Miami Heat
$30,250,000
Salary
Jan. 2005
Base salary with the Miami Heat for the year 2005
$5,000,000
Earnings 2004
Salary
Jan. 2004
Base salary with the Miami Heat for the year 2004
$620,050
Earnings 2003
Contract
Jan. 2003
A two-year contract with the Miami Heat
$986,980
Salary
Jan. 2003
Base salary with the Miami Heat for the year 2003
$366,930
Show all earnings