Statistics
Source of Wealth:

Basketball

Age:

29

Birth Place:

Washington, D.C., United States

Weight:

235 lbs (107 kg)

Marital Status:

Single

Full Name:

Kevin Wayne Durant

Nationality:

American
Date of Birth:

September 29, 1988

Ethnicity:

African-American

Occupation:

Professional Basketball Player

Education:

University of Texas at Austin, Montrose Christian School, Oak Hill Academy
About Kevin Wayne Durant
Kevin Durant has an estimated net worth of $150 million. Kevin Durant is currently playing for the Golden State Warriors of the NBA as small forward. While attending the University of Texas, Durant was selected as the 2nd overall pick on the first round of the  2007 NBA Draft by the Seattle SuperSonics. On his debut season, he received the NBA Rookie Award of the Year and on the same year, he signed a contract with Nike. He was part of the US Men's National Basketball team who won a gold medal at the 2012 Summer Olympics. Kevin Durant has earned millions from endorsement contracts.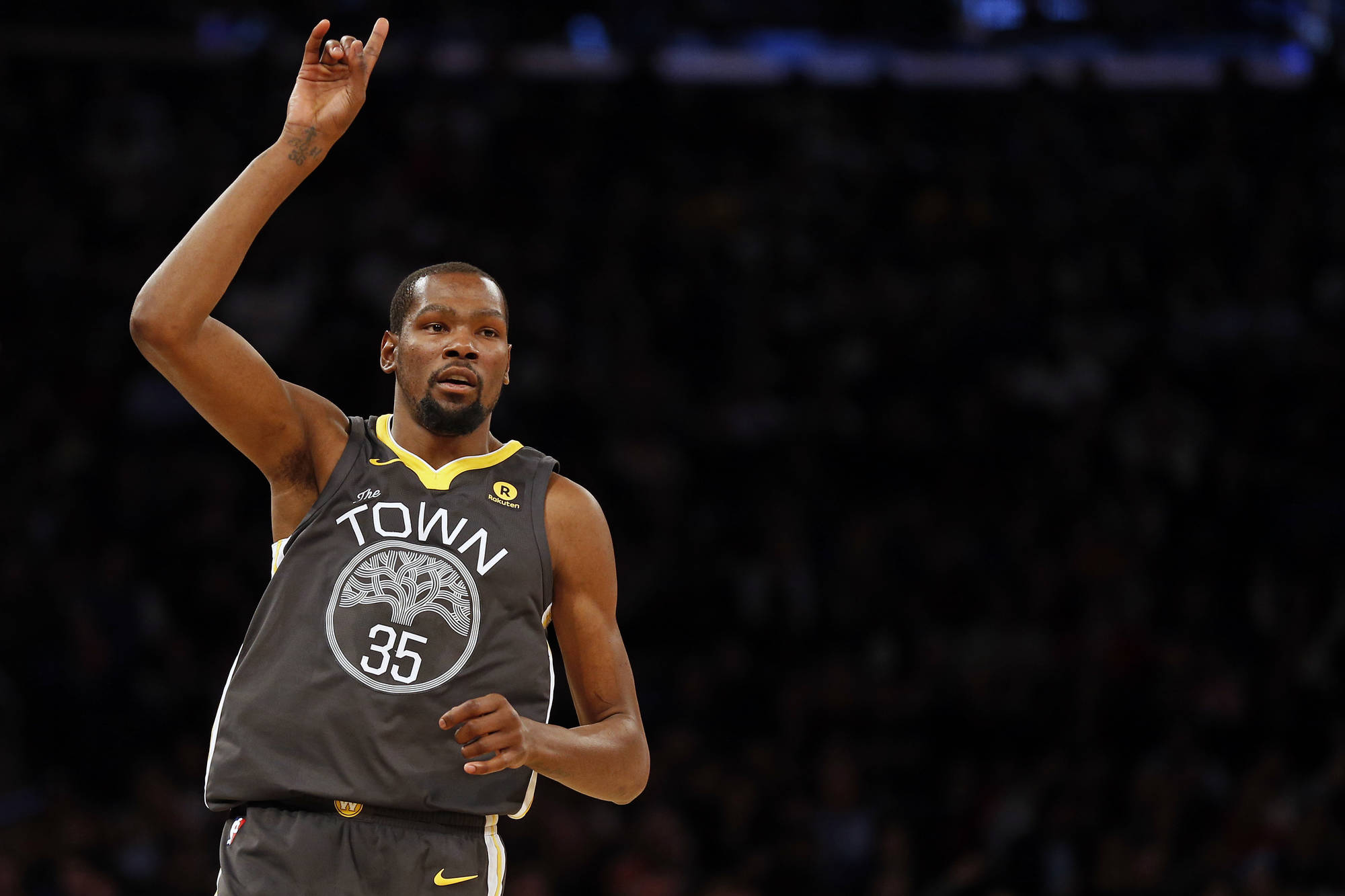 Earnings & Financial Data
?
The below financial data is gathered and compiled by TheRichest analysts team to give you a better understanding of Kevin Durant Net Worth by breaking down the most relevant financial events such as yearly salaries, contracts, earn outs, endorsements, stock ownership and much more.
Choose Year
Earnings 2018
Earnings 2017
Earnings 2016
Earnings 2015
Earnings 2014
Earnings 2013
Earnings 2012
Earnings 2011
Earnings 2010
Earnings 2009
Earnings 2008
Earnings 2007
Earnings 2018
Asset
Apr. 2018
Purchase value of Kevin Durant's oceanfront home in Malibu
$12,050,000
Asset
Feb. 2018
Capital raised by Kevin Durant and various investors' investment in an esports-only investment fund called Vision Esports, L.P.
$38,000,000
Salary
Jan. 2018
Base salary with the Golden State Warriors for the year 2018
$30,000,000
Contract
Jan. 2018
A two-year contract with the Golden State Warriors
$61,500,000
Sponsorship
Jan. 2018
Endorsement deals with Panini, Beats Electronics, Alaska Air Group and Nike
$32,000,000
Earnings 2017
Salary
Jan. 2017
Base salary with the Golden State Warriors for the year 2017
$25,000,000
Contract
Jan. 2017
A two-year contract with the Golden State Warriors
$51,250,000
Earnings 2016
Sponsorship
Jan. 2016
A ten-year sponsorship contract with Nike
$285,000,000
Salary
Jan. 2016
Base salary with the Golden State Warriors for the year 2016
$26,540,000
Contract
Jan. 2016
A two-year contract with the Golden State Warriors
$54,270,000
Earnings 2015
$54.1 Million
Salary
Jan. 2015
Base salary with the Oklahoma City Thunder for the year 2015
$20,160,000
Earnings 2014
$31.8 Million
Salary
Jan. 2014
Base salary with the Oklahoma City Thunder for the year 2014
$19,000,000
Sponsorship
2014
Annual income from the seven-year deal with Nike
$14,000,000
Earnings 2013
$30.9 Million
Sale of Asset
Oct. 2013
Selling price of Kevin Durant's Oklahoma City home in a gated community called Club Villa
$1,950,000
Sponsorship
Sep. 2013
Endorsement deals with Nike, Panin, 2k2, Gatorade, BBVA and Sprint Nextel
$14,000,000
Asset
Jul. 2013
Purchase value of Kevin Durant's two townhomes in Deep Deuce
$2,100,000
Salary
Jan. 2013
Base salary with the Oklahoma City Thunder for the year 2013
$17,320,000
Asset
2013
Value of the two townhomes he bought at The Hill
$1,769,000
Sponsorship
2013
Annual income from the seven-year deal with Nike
$14,000,000
Salary
2013
Base salary from the Oklahoma City Thunders
$16,900,000
Earnings 2012
Salary
Jan. 2012
Base salary with the Oklahoma City Thunder for the year 2012
$16,670,000
Salary
2012
Salary from the Oklahoma City Thunders
$15,507,000
Earnings 2011
Asset
Oct. 2011
Purchase value of Kevin Durant's Oklahoma City home in a gated community called Club Villa
$1,790,000
Salary
Jan. 2011
Base salary with the Oklahoma City Thunder for the year 2011
$12,480,000
Contract
Jan. 2011
A five-year contract with the Oklahoma City Thunder
$89,160,000
Asset
2011
Value of his Oklahoma City home at Club Villa which is currently in the market for $1.95 million
$1,790,000
Salary
2011
Salary from the Oklahoma City Thunders
$6,054,000
Earnings 2010
Salary
Jan. 2010
Base salary with the Oklahoma City Thunder for the year 2010
$6,050,000
Contract
2010
Five-year contract with the Oklahoma City Thunders
$85,000,000
Salary
2010
Salary from the Oklahoma City Thunders
$4,797,000
Earnings 2009
Salary
Jan. 2009
Base salary with the Oklahoma City Thunder for the year 2009
$4,800,000
Salary
2009
Salary from the Oklahoma City Thunders
$4,484,000
Contract
2009
Option offered by the Oklahoma City Thunders for 2010-2011
$6,000,000
Earnings 2008
Salary
Jan. 2008
Base salary with the Oklahoma City Thunder for the year 2008
$4,840,000
Salary
2008
Salary from the Seattle Supersonics
$4,171,000
Contract
2008
Option offered by the Oklahoma City Thunders for 2009-2010
$4,800,000
Earnings 2007
Salary
Jan. 2007
Base salary with the Seattle Sonics for the year 2007
$4,170,000
Contract
Jan. 2007
A four-year contract with the Seattle Sonics
$8,650,000
Show all earnings