Statistics
Source of Wealth:

Golf and Endorsements

Age:

48

Birth Place:

San Diego, California, United States

Weight:

200 lbs (91 kg)

Marital Status:

Married (Amy Mickelson)

Full Name:

Philip Alfred Mickelson

Nationality:

American
Date of Birth:

June 16, 1970

Ethnicity:

Portuguese, Swedish and Italian

Occupation:

Professional Golfer

Education:

Arizona State University

Children:

3 (Amanda, Sophia and Evan)
About Philip Alfred Mickelson
American professional golfer, Philip Alfred Mickelson has an estimated net worth of $400 million. Known to golf fans as "Lefty," Phil Mickelson has been one of the Professional Golf Association's most successful players since 1992. Mickelson was still an amateur when he won the PGA's Northern Telecom Open in 1991. He turned pro the next year and in 1996 he stepped into the spotlight by winning four tournaments, including the NEC World Series of Golf. He has won four major championships and a total of 40 events on the PGA Tour. He has reached a career-high world ranking of 2nd in multiple years.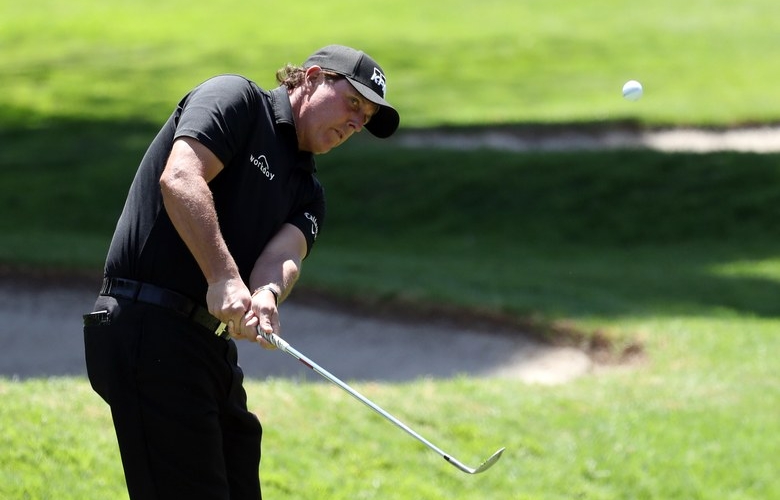 Mickelson's world ranking has dropped the past years, but he continues to be a hot commodity with sponsors--only Tiger Woods earns more off the course. Mickelson was inducted into the World Golf Hall of Fame in 2012 reflecting a stellar career that includes 40 PGA victories (ninth all-time), $66 million in career prize money (second all-time) and four major titles (second most during the past 20 years). Mickelson earns more than $30 million annually from endorsement partners: Callaway, Barclay's, KPMG, Exxon, Rolex, and Amgen/Pfizer. He picked up the deal to promote psoriatic arthritis drug Enbrel after he was diagnosed with the disease in 2010 and used the drug for his treatment. Mickelson has been enlisted to design multiple golf courses in China.
Earnings & Financial Data
?
The below financial data is gathered and compiled by TheRichest analysts team to give you a better understanding of Phil Mickelson Net Worth by breaking down the most relevant financial events such as yearly salaries, contracts, earn outs, endorsements, stock ownership and much more.
Choose Year
Earnings 2018
Earnings 2017
Earnings 2016
Earnings 2015
Earnings 2014
Earnings 2013
Earnings 2012
Earnings 2011
Earnings 2010
Earnings 2009
Earnings 2008
Earnings 2007
Earnings 2006
Earnings 2005
Earnings 2004
Earnings 2003
Earnings 2002
Earnings 2001
Earnings 2000
Earnings 1999
Earnings 1998
Earnings 1997
Earnings 1996
Earnings 1995
Earnings 1994
Earnings 1993
Earnings 1992
Earnings 2018
$41.3 Million
Event
Dec. 2018
Prize money for the year 2018
$4,300,000
Earnings
Dec. 2018
Phil Mickelson's PGA Tour earnings for the year 2018
$4,600,000
Asset
Nov. 2018
Purchase value of Phil Mickelson's Gulfstream V private jet, Aston Martin Vanquish and Bentley Continental GT
$40,500,000
Sponsorship
Jul. 2018
Earnings from various endorsement deals that includes merchant bank Intrepid Financial Partners and human resources firm Workday
$37,000,000
Earnings 2017
Earnings
Dec. 2017
Phil Mickelson's PGA Tour earnings for the year 2017
$2,100,000
Earnings 2016
$52.9 Million
Asset
Dec. 2016
Purchase value of Phil Mickelson's pair of mens crocodile shoes retails from the retailer Neiman Marcus
$5,000
Earnings
Dec. 2016
Phil Mickelson's PGA Tour earnings for the year 2016
$4,020,000
Earnings
May. 2016
Total earnings from golf and numerous endorsements
$52,900,000
Earnings 2015
$50.8 Million
Earnings
Dec. 2015
Salary and winnings for the year 2015
$2,800,000
Sale of Asset
Dec. 2015
Sale of Phil Mickelson's 8,800-square-foot home in Rancho Santa Fe, California
$5,700,000
Sponsorship
Dec. 2015
Earnings from endorsement deals with Callaway, Barclays, KPMG, Exxon Mobil, Rolex and Amgen
$48,000,000
Earnings
Dec. 2015
Phil Mickelson's PGA Tour earnings for the year 2015
$2,150,000
Earnings 2014
Earnings
Dec. 2014
Phil Mickelson's PGA Tour earnings for the year 2014
$2,160,000
Earnings 2013
$49 Million
Earnings
Dec. 2013
Phil Mickelson's PGA Tour earnings for the year 2013
$5,500,000
Earnings 2012
$47.8 Million
Earnings
Dec. 2012
Phil Mickelson's PGA Tour earnings for the year 2012
$4,200,000
Sale of Asset
Dec. 2012
Sale of Phil Mickelson's 2,300-square-foot San Diego beach house
$2,700,000
Earnings
Dec. 2012
Salary and winnings for the year 2012
$4,800,000
Sponsorship
Dec. 2012
Earnings from endorsement deals with Callaway, Barclay's, KPMG, Exxon, Rolex, Amgen/Pfizer and the psoriatic arthritis drug Enbrel
$43,000,000
Earnings 2011
$62 Million
Earnings
Dec. 2011
Phil Mickelson's PGA Tour earnings for the year 2011
$3,760,000
Sponsorship
2011
Endorsement which Includes major brands such as ExxonMobil, KPMG, Rolex, Callaway Golf, and Barclays
$53,000,000
Earnings 2010
$46 Million
Earnings
Dec. 2010
Phil Mickelson's PGA Tour earnings for the year 2010
$3,820,000
Earnings 2009
$40 Million
Earnings
Dec. 2009
Phil Mickelson's PGA Tour earnings for the year 2009
$5,330,000
Earnings 2008
$45 Million
Earnings
Dec. 2008
Phil Mickelson's PGA Tour earnings for the year 2008
$5,190,000
Earnings 2007
$42 Million
Earnings
Dec. 2007
Phil Mickelson's PGA Tour earnings for the year 2007
$5,820,000
Earnings 2006
$47 Million
Earnings
Dec. 2006
Phil Mickelson's PGA Tour earnings for the year 2006
$4,260,000
Earnings 2005
$26.8 Million
Earnings
Dec. 2005
Phil Mickelson's PGA Tour earnings for the year 2005
$5,700,000
Earnings 2004
$20 Million
Earnings
Dec. 2004
Phil Mickelson's PGA Tour earnings for the year 2004
$5,780,000
Earnings 2003
Earnings
Dec. 2003
Phil Mickelson's PGA Tour earnings for the year 2003
$1,620,000
Earnings 2002
Earnings
Dec. 2002
Phil Mickelson's PGA Tour earnings for the year 2002
$4,310,000
Earnings 2001
Asset
Dec. 2001
Purchase value of Phil Mickelson's 8,800-square-foot home in Rancho Santa Fe, California
$5,950,000
Earnings
Dec. 2001
Phil Mickelson's PGA Tour earnings for the year 2001
$4,400,000
Earnings 2000
Event
Dec. 2000
Phil Mickelson's PGA Tour earnings for the year 2000
$4,750,000
Earnings 1999
Asset
Dec. 1999
Purchase value of Phil Mickelson's 2,300-square-foot San Diego beach house
$1,650,000
Earnings
Dec. 1999
Phil Mickelson's PGA Tour earnings for the year 1999
$1,720,000
Earnings 1998
Earnings
Dec. 1998
Phil Mickelson's PGA Tour earnings for the year 1998
$1,840,000
Earnings 1997
Earnings
Dec. 1997
Phil Mickelson's PGA Tour earnings for the year 1997
$1,230,000
Earnings 1996
Earnings
Dec. 1996
Phil Mickelson's PGA Tour earnings for the year 1996
$1,700,000
Earnings 1995
Earnings
Dec. 1995
Phil Mickelson's PGA Tour earnings for the year 1995
$655,780
Earnings 1994
Earnings
Dec. 1994
Phil Mickelson's PGA Tour earnings for the year 1994
$748,320
Earnings 1993
Earnings
Dec. 1993
Phil Mickelson's PGA Tour earnings for the year 1993
$628,740
Earnings 1992
Earnings
Dec. 1992
Phil Mickelson's PGA Tour earnings for the year 1992
$171,710
Show all earnings