Statistics
Source of Wealth:

Baseball

Age:

35

Birth Place:

Orlando, Florida, United States

Weight:

195 lbs (88 kg)

Marital Status:

Married (Emily Kuchar)

Full Name:

Donald Zackary "Zack" Greinke

Nationality:

American
Date of Birth:

October 21, 1983

Ethnicity:

German, English and likely Polish

Occupation:

Professional Baseball Player

Education:

Apopka High School

Children:

1 (Bode)
About Donald Zackary "Zack" Greinke
American professional baseball player Zack Greinke has an estimated net worth of $90 million. He currently plays as the pitcher for Major League Baseball's Arizona Diamondbacks. Prior to his current position, Greinke was the pitcher for  Los Angeles Angels of Anaheim, Kansas City Royals, and Milwaukee Brewers.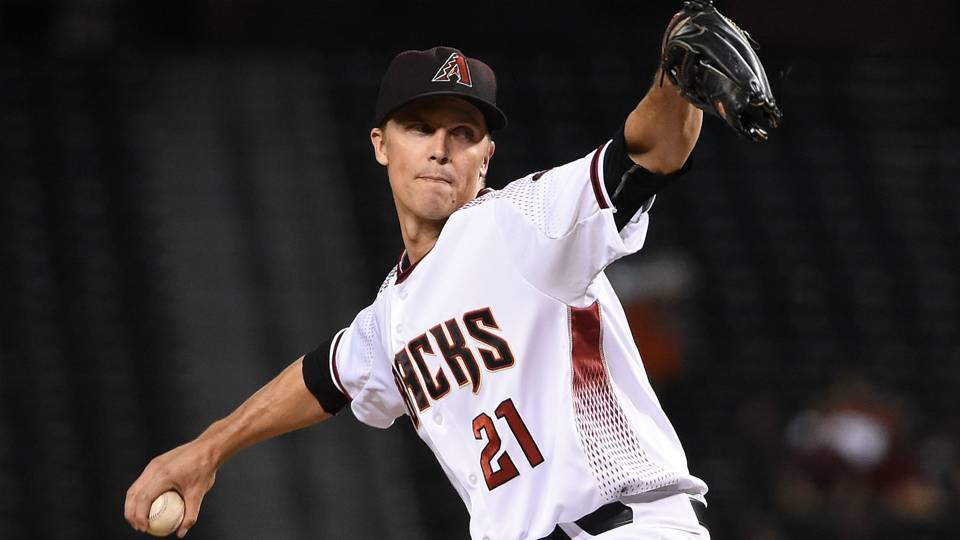 Donald Zackary "Zack" Greinke was born on October 21, 1983, in Orlando, Florida. He is an alumnus of Apopka High School. He is currently married to Emily Kuchar.
After being named Gatorade National Player of the Year, Zack Greinke was selected by the Kansas City Royals as a first-round pick at the 2002 MLB Draft. In 2009, he was the MLB ERA champion. In the same year, he also won the Al Cy Young Award.
After playing for other MLB franchises, Zack Greinke became a part of the Los Angeles Dodgers when he signed a six-year contract worth $147 million with the team. At the time of signing, it was the largest contract ever given to a right-handed pitcher in the history of MLB.
Earnings & Financial Data
?
The below financial data is gathered and compiled by TheRichest analysts team to give you a better understanding of Zack Greinke Net Worth by breaking down the most relevant financial events such as yearly salaries, contracts, earn outs, endorsements, stock ownership and much more.
Choose Year
Earnings 2019
Earnings 2018
Earnings 2017
Earnings 2016
Earnings 2015
Earnings 2014
Earnings 2013
Earnings 2012
Earnings 2011
Earnings 2010
Earnings 2009
Earnings 2008
Earnings 2007
Earnings 2006
Earnings 2005
Earnings 2002
Earnings 2019
Signing Bonus
Jan. 2019
Signing bonus with the Arizona Diamondbacks for the year 2019
$3,000,000
Salary
Jan. 2019
Base salary with the Arizona Diamondbacks for the year 2019
$31,500,000
Earnings 2018
Signing Bonus
Jan. 2018
Signing bonus with the Arizona Diamondbacks for the year 2018
$3,000,000
Salary
Jan. 2018
Base salary with the Arizona Diamondbacks for the year 2018
$31,000,000
Earnings 2017
Sponsorship
Jun. 2017
Earnings from endorsements for the year 2017
$50,000
Signing Bonus
Jan. 2017
Signing bonus with the Arizona Diamondbacks for the year 2017
$3,000,000
Salary
Jan. 2017
Base salary with the Arizona Diamondbacks for the year 2017
$31,000,000
Earnings 2016
Asset
Mar. 2016
Purchase value of Zack Greinke's 12,000-square-foot house in Paradise Valley
$6,250,000
Signing Bonus
Jan. 2016
Signing bonus with the Arizona Diamondbacks for the year 2016
$3,000,000
Salary
Jan. 2016
Base salary with the Arizona Diamondbacks for the year 2016
$31,000,000
Contract
Jan. 2016
A six-year contract with the Arizona Diamondbacks
$206,500,000
Earnings 2015
Signing Bonus
Jan. 2015
Signing bonus with the Los Angeles Dodgers for the year 2015
$2,000,000
Salary
Jan. 2015
Base salary with the Los Angeles Dodgers for the year 2015
$23,000,000
Earnings 2014
Signing Bonus
Jan. 2014
Signing bonus with the Los Angeles Dodgers for the year 2014
$2,000,000
Salary
Jan. 2014
Base salary with the Los Angeles Dodgers for the year 2014
$24,000,000
Earnings 2013
Signing Bonus
Jan. 2013
Signing bonus with the Los Angeles Dodgers for the year 2013
$2,000,000
Salary
Jan. 2013
Base salary with the Los Angeles Dodgers for the year 2013
$17,000,000
Contract
Jan. 2013
A six-year contract with the Los Angeles Dodgers
$147,000,000
Earnings 2012
Salary
Jan. 2012
Base salary with the Kansas City Royals for the year 2012
$13,500,000
Earnings 2011
Salary
Jan. 2011
Base salary with the Kansas City Royals for the year 2011
$13,500,000
Earnings 2010
Salary
Jan. 2010
Base salary with the Kansas City Royals for the year 2010
$7,250,000
Earnings 2009
Bonus
Jan. 2009
Incentives with the Kansas City Royals for the year 2009
$150,000
Salary
Jan. 2009
Base salary with the Kansas City Royals for the year 2009
$3,750,000
Contract
Jan. 2009
A four-year contract with the Kansas City Royals
$38,000,000
Earnings 2008
Bonus
Jan. 2008
Incentives with the Kansas City Royals for the year 2008
$50,000
Salary
Jan. 2008
Base salary with the Kansas City Royals for the year 2008
$1,400,000
Contract
Jan. 2008
A one-year contract with the Kansas City Royals
$1,400,000
Earnings 2007
Salary
Jan. 2007
Base salary with the Kansas City Royals for the year 2007
$407,000
Contract
Jan. 2007
A one-year contract with the Kansas City Royals
$407,000
Earnings 2006
Salary
Jan. 2006
Base salary with the Kansas City Royals for the year 2006
$365,000
Contract
Jan. 2006
A one-year contract with the Kansas City Royals
$365,000
Earnings 2005
Salary
Jan. 2005
Base salary with the Kansas City Royals for the year 2005
$330,500
Contract
Jan. 2005
A one-year contract with the Kansas City Royals
$330,500
Earnings 2002
Signing Bonus
Jan. 2002
Signing bonus with the Kansas City Royals for the year 2002
$2,480,000
Contract
Jan. 2002
A one-year contract with the Kansas City Royals
$2,480,000
Show all earnings