Net Worth:
$350 Million
Source of Wealth

Music, Film, Fashion, Other Businesses

Beyonce Age

32 years old

Beyonce Birth Place

Houston, Texas, U.S.

Beyonce Height

5' 6" (1.68 m)
All you need to know about:

Beyonce
Beyoncé Giselle Knowles-Carter
Beyonce net worth: American R&B recording artist, actress and fashion designer, Beyoncé Giselle Knowles, has an estimated net worth of $350 million. Knowles is probably one of the most popular American R&B recording artists in her generation. This siren-voiced performer began her career as part of the Destiny's Child. After going solo in 2001, Beyonce earned a great deal of popularity which earned her with staggering record sales, movie roles and Grammy Awards. Her romance with rapper/CEO Shawn "Jay-Z" Carter made her a high profile performer in the entertainment world.
Aside from earnings in the musical industry,  Knowles certainly understands the importance of diversifying her portfolio. She invests in Dereon Clothing line and other properties. She has acquired endorsement deals from General Mills, L'Oreal DirecTV etc. She said: "I have a lot of property. I've invested my money and I don't have to make any more, because I'm set. I'm now able really to be free and just do things that make me happy." In addition from handling her music career and businesses, Beyonce took the time to build the Survivors Foundation which is aimed to help the survivors of Hurricane Katrina in Houston.
In 2008, the Houston-born diva's was hailed second by the Forbes magazine as one of the most popular and highest under thirty. She also topped in the list of budding moguls or Hollywood's top earning celebrities who are under 35. According to Forbes, she is the highest paid female artist and second most influential and powerful celebrity. On Forbes' 2011 Celebrity 100, she ranked 29 which is justified because she didn't released an album or hold a tour in the past year (2010-2011).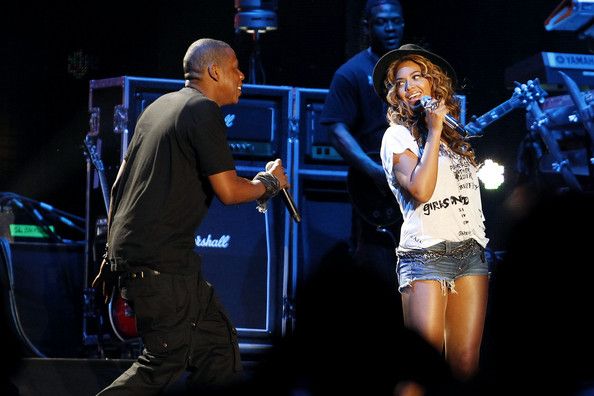 Beyoncé joined her rapper husband Jay-Z onstage to perform together at the Coachella Music Festival in Indio, California.
Annual earnings according to Forbes:
May 2011 to May 2012 Earnings: $40 million
May 2010 to May 2011 Earnings: $35 million
May 2009 to May 2010 Earnings: $87 million
May 2008 to May 2009 Earnings: $87 million
May 2007 to May 2008 Earnings: $80 million
---
More Stats on Beyoncé Giselle Knowles-Carter