Net Worth:
$170 Million
Source of Wealth

Publication (Twilight Saga)

Stephenie Meyer Age

39 years old

Stephenie Meyer Birth Place

Hartford, Connecticut

Stephenie Meyer Marital Status

Married (Christian Meyer)
Stephenie Meyer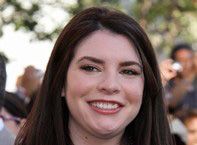 Stephenie Meyer net worth: Big Break: Twilight, 2003
Residence: Cave Creek, AZ
Hometown: Hartford, CT
Education: BA/BS, Brigham Young University
Marital Status: Married ,Children: 3
---
Annual earnings according to Forbes:
2010 – 2011 Earnings: $21 Million
2009 – 2010 Earnings: $40 Million
2008 – 2009 Earnings: $50 Million
---
Like Harry Potter creator JK Rowling, Stephenie Meyer had never published a piece of fiction before she wrote Twilight in 2003, at age 29. She has said the idea for the vampire love story came to her in a dream. The three Twilight films have grossed $1.8 billion at the global box office. Two more are on the way, as well as an adaption of her science fiction novel The Host starring Saiorse Ronan.
The daughter of Stephen and Candy Morgan, Meyer was born on December 24, 1973, in Hartford, Connecticut. The uncommon spelling of Morgan's first name was "a gift from [her] father." He added the letters "i" and "e" to the end of his name to create "Stephenie." The Morgans relocated to Phoenix, Arizona, four years later. As the second of six children, Meyer took on the duties associated with being an elder sibling in a large Mormon family. In between caring for her younger brothers and sisters she showed a passion for reading, becoming a fan of classic authors including Jane Austen, Charlotte Bronte, and Margaret Mitchell.
Although she felt out of place among the privileged population of Chaparral High School in Scottsdale, Arizona, Meyer was an excellent student. Graduating in 1992, her high marks earned her a National Merit Scholarship. She used the award to attend Brigham Young University, choosing to major in English literature.
Stephenie Meyer is well-known for her vampire romance series Twilight, which sold more than 100 million copies worldwide and 40 million copies in the U.S. She was the biggest selling author of 2008 and 2009. Meyer was in Time magazine's list of the "100 Most Influential People in 2008″. She also entered at #26 in Forbes Celebrity 100 list of the world's most powerful celebrities in 2009 for the first time.Meyer has an estimated net worth of $125 million according to Forbes.
---
More Stats on Stephenie Meyer