Net Worth:
$150 Million
Source of Wealth

Television, Film

Jennifer Aniston Age

44 years old

Jennifer Aniston Birth Place

Sherman Oaks, California, U.S.

Jennifer Aniston Height

5' 6" (1.68 m)
All you need to know about:

Jennifer Aniston
Jennifer Joanna Aniston
Jennifer Aniston net worth: In 2007, Forbes ranked Aniston at #10 as one of the top 20 richest women in entertainment with a net worth of $110 million. The daughter of a soap star (John Aniston of Days of Our Lives), Aniston eclipsed her father's TV fame with her turn as Rachel Green on the eternally popular sitcom 'Friends'. While the tabloids fret about Aniston's love life, the actress is slowly proving herself to be one of Hollywood's surest things on the business side. Her 2010 movie The Bounty Hunter opened weak and was immediately written off by the pundits. But the film kept attracting audiences, eventually earning $136 million on an estimated budget of $40 million. She later helped Adam Sandler's Just Go With It, earn a healthy $212 million. Jennifer Aniston signs bottles of "Jennifer Aniston" at Sephora Lexington Avenue on May 5, 2011 in New York City. She worked on the new perfume for or over a year, was released on July 21, 2010, at Harrods in London.Original plans called for the perfume to be named Lolavie by Jennifer Aniston, but to avoid confusion with a similarly named perfume, the name was changed to simply 'Jennifer Aniston'.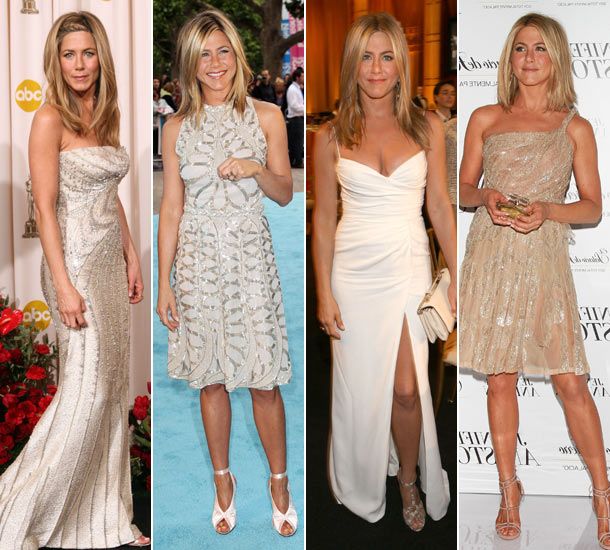 Annual earnings according to Forbes:
2010 – 2011 Earnings: $28 million
2009 – 2010 Earnings: $27 million
2008 – 2009 Earnings: $25 million
2007 – 2008 Earnings: $27 million
Salary according to IMDB:
Wanderlust (2011) $8,000,000
Horrible Bosses (2011) $6,000,000
Just Go with It (2011) $10,000,000
The Switch (2010/I) $8,000,000
The Bounty Hunter (2010/I) $8,000,000
Marley & Me (2008) $8,000,000
The Break-Up (2006) $8,000,000
Rumor Has It… (2005) $8,000,000
Along Came Polly (2004) $5,000,000
Rock Star (2001) $3,000,000
Picture Perfect (1997) $2,000,000
More Stats on Jennifer Joanna Aniston