Net Worth:
$300 Million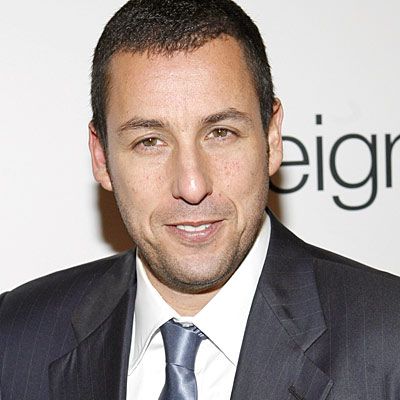 Source of Wealth

Film

Age

47 years old

Birth Place

Brooklyn, New York, United States

Height

5' 10" (1.78 m)

Marital Status

Married (Jacqueline Samantha Titone)

Full Name

Adam Richard Sandler
Nationality

United States

Date of Birth

September 9, 1966

Ethnicity

Jewish Russian

Weight

165 lbs (74.84 kg)

Occupation

Actor, Comedian, Film producer

Education

New York University

Children

2 (Sadie Madison,Sunny Madeline)
More Stats
View More
Adam Sandler net worth: One of Hollywood's highest earners, Adam Sandler has a net worth estimated at $300 million. Sandler is a reliable funnyman whose audience is undaunted by terrible reviews.Case in point: his recent film Grown Ups. The movie earned a horrible 10 out of 100 on movie review website Rotten Tomatoes but it brought in $271 million at the box office making it Sandler's highest grossing movie to date.
In addition to his star paydays, Sandler earns as a producer on films like Mall Cop and the upcoming Zookeeper, both starring Kevin James.
Actor's Agency: William Morris-Endeavor Talent Agency( WME)
---
Annual earnings according to Forbes:
2011 Earnings: $40 Million
2010 Earnings: $40 Million
2009 Earnings: $55 Million
2007 Earnings: $30 Million
---
Estimated 2010 salary according to Vanity Fair: $50 Million
$25 million: Just Go with It (fee for producing and starring in upcoming comedy opposite Jennifer Aniston)
$20 million: Jack and Jill (fee for producing and starring in upcoming comedy with Katie Holmes and Al Pacino)
$3 million: Grown Ups (back-end for starring and writing, based on worldwide gross of $271 million, plus share of DVD and pay-TV revenue)
$2 million: Older film revenue
---
Salary according to IMDB:
Jack and Jill (2011) $20,000,000 (includes producer fee)
Zookeeper (2011) $2,000,000
Bucky Larson: Born to Be a Star (2011) $2,500,000
Just Go with It (2011) $25,000,000 (includes producer fee)
Grown Ups (2010) $25,000,000
Anger Management (2003) $25,000,000 against 25% of the gross
Punch-Drunk Love (2002) $7,000,000
Little Nicky (2000) $20,000,000 plus 20% (star)
Big Daddy (1999/I) $8,000,000
The Wedding Singer (1998) $5,500,000
Bulletproof (1996) $2,500,000
Billy Madison (1995) $1,700,000
---